PVC coated  wire, also called plastic coated wire, after high temperature dissolution cooled solid PVC particles uniformly wrapped in high-quality black iron wire and galvanized wire through advanced equipment.
PVC coated wire is mainly divided into  PVC coated wire and PE coated  wire.PVC Coating has strong adhesion, good gloss, uniform coating, high toughness, good corrosion resistance, bright color.There are more than twenty color , and most common color  is dark green, grass green or black.Our wire diameter range of products is wide the inner diameter can be done from 0.25mm to 5.0mm. After coating, the outer diameter can reach  0.5MM to 6mm, packing we can do spool  wire, small coil wire and big coil wire. Due to the quality of our raw materials and imported raw environmentally friendly PVC outer perfect combination in the same product, it has better anti-oxidation, anticorrosion, anti-cracking effect anti-cracking effect, and the service life increased 1.5 times. Our   plant has strict management rules, so our cost is 10% lowers than same industry.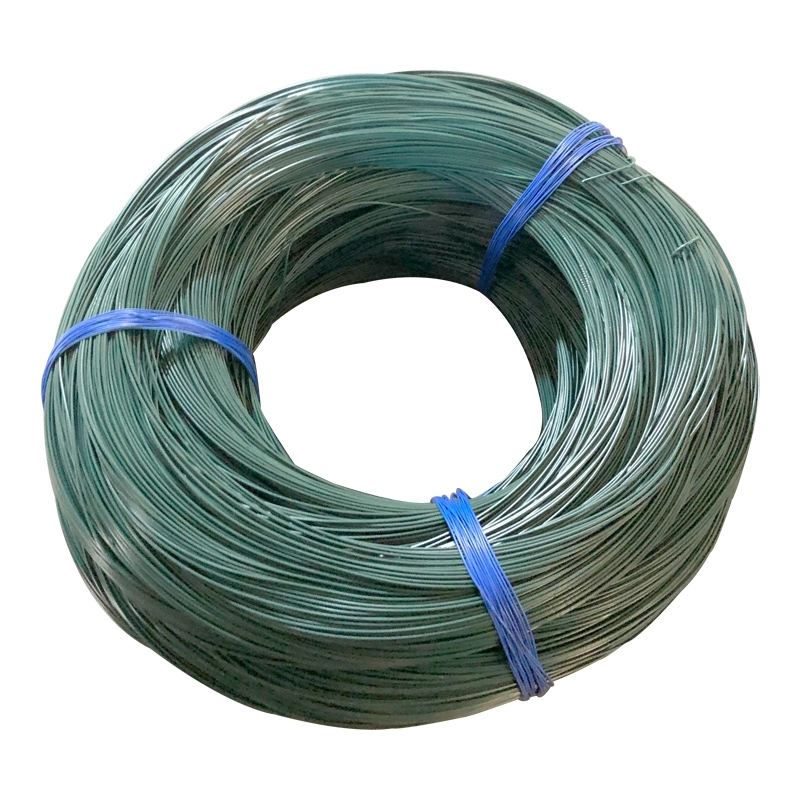 SPECIFICATION (CUSTOMIZED CAN BE ACCEPTED
06mm/ 1.0 mm
08mm10.2 mm
0.9 mm/1.3 mm
1.0 mm/1.6 mm
1.2 mm/2.0 mm
1.4 mm/20 mm
1.6mm2. 4 mm
1.8 mm12.6 mm
1. 9 mm/2.9 mm
20 mm/30 mm
2.2 mm/3.2 mm
2.4 mm/3.5 mm
2.6 mm/4.0 mm
2.8mm/42 mm
3.0 mm/4.2 mm
4.0mm/ 50mm
Package:
1kgs-500kgs/roll on request , plastic inside and nylon woven outside or gunny woven  outside.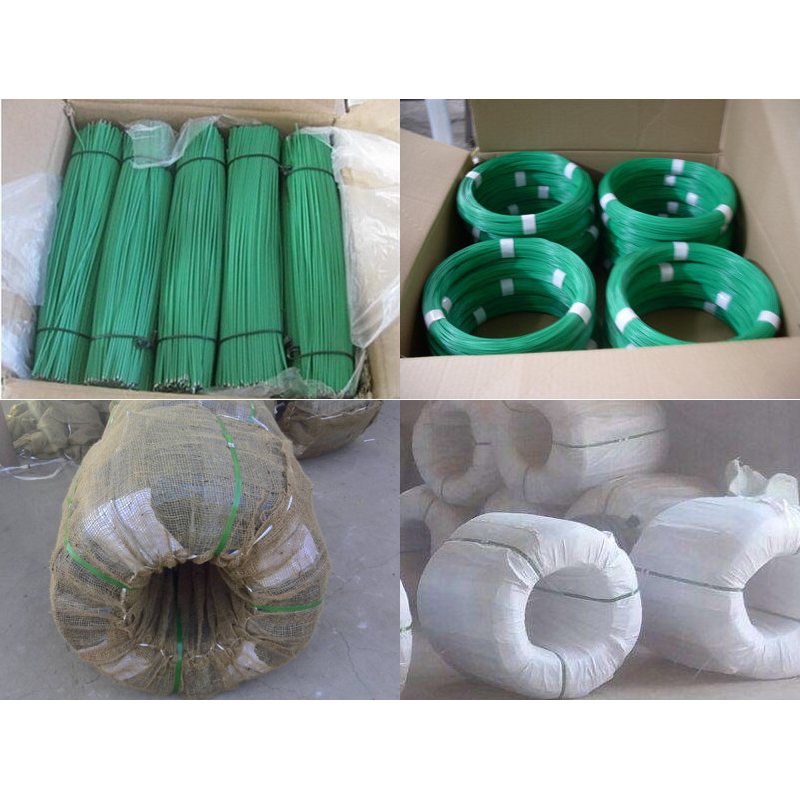 Application:
The most popular use for PVC coated wire is in the construction of chain link fences for industrial security fences, freeways and tennis courts. It is also used in other applications such as coat hangers and handles.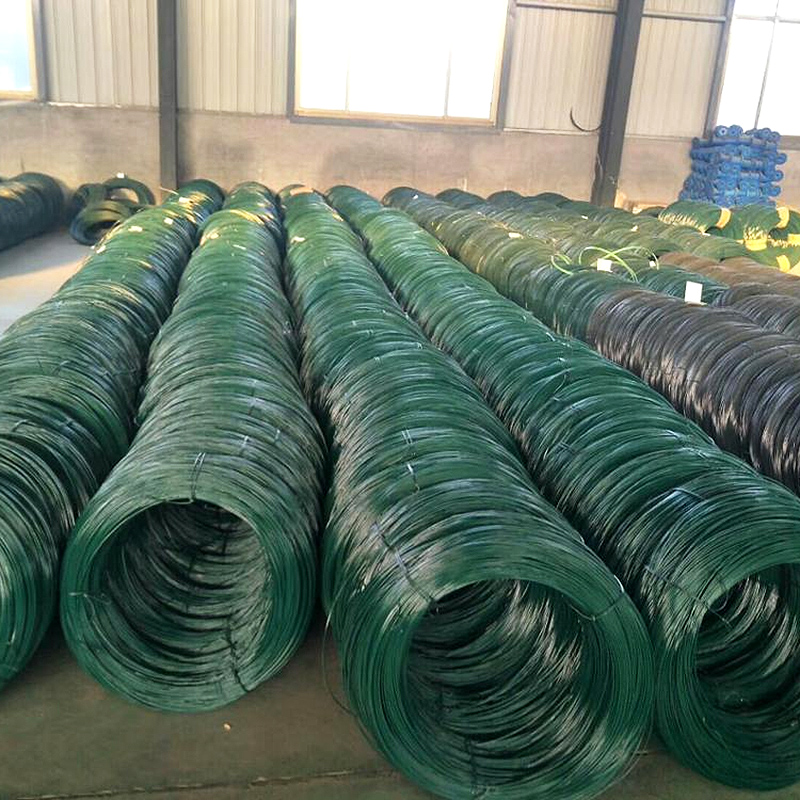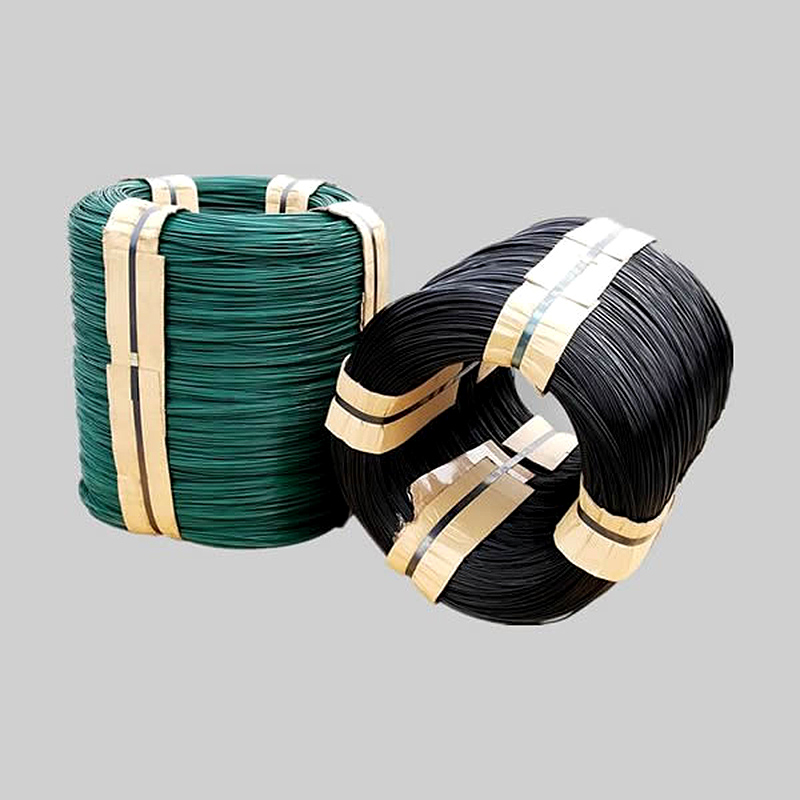 Our supreme quality product called PVC Coated Wire (or Plastic Coated Wire) will revolutionize your expectations in wires. We manufacture this masterpiece by wrapping premium black iron wire or galvanized wire with solid PVC particles that have been carefully dissolved at high temperatures before being uniformly cooled; resulting in a highly durable and long lasting creation that surpasses any traditional wires on the market today! Our range includes two main types: PVC Coated Wire & PE Coated Wire both providing fortifying adhesion ensuring they remain intact even during exceptional pressure or stretching situations without compromising on their uniform glossy finish – leaving you thoroughly impressed! We're confident you'll love our spectacular selection of more than twenty vibrant colors ranging from classic dark greens to unique shades of grass green or black – perfect for standing out in any setting imaginable! Whether you're looking for strength or an eye catching appeal – choose our pvc coated wires – we guarantee satisfaction! At our company we take pride in offering reliable and durable products such as our PVC coated wire – a long lasting wiring solution that extends lifespan through rust and corrosion resistant properties enhanced by the protective coating. Suitable for use across various applications including those in construction or fencing requirements this product stands out due to its ease of customization via cutting into required shapes or sizes.
We understand your needs when tackling tough projects thus why we provide wiring solutions such as this one that boasts enough strength beyond heavy loads while still being resilient enough for sustained use without breakage over time.
Installation becomes more manageable with this type of wiring solution since the coat acts as an adhesive making clips or clamps essential for securing the wiring system in place -this feature coupled with coating reinforcement means our product can withstand high stress applications durably.
For increased user satisfaction we've ensured uniform coverage throughout the cables length coupled with strong adhesion, high toughness,and bright colors in our PVC-coated wire.
Whether you're tackling a construction project or have fencing needs, our PVC coated wire is an optimal choice for reliable service over the years.